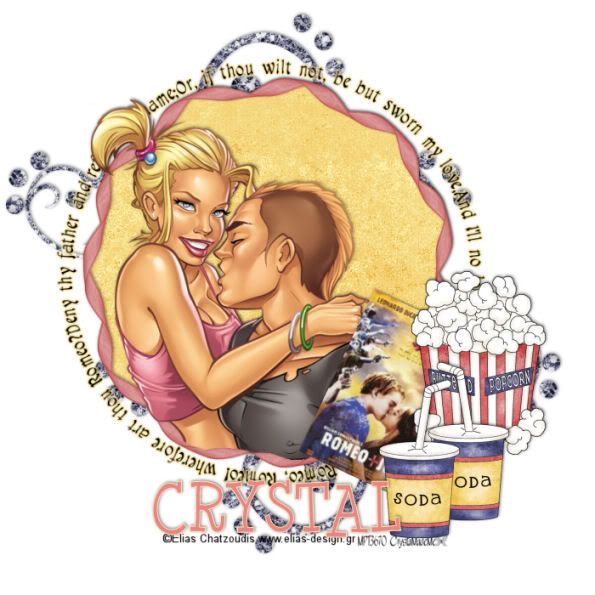 This tutorial was created on November /07/2008 by Ċrÿstàlßellĕ any resemblance to another Tag or Tutorial is purely coincidental.

This tag was created in PSP 9 and can be done in other versions

You will need:

Font of Choice

Movie Poster of your choice..This you can find on photobucket
Script of Choice

Eye candy 4000/Gradient Glow

Tube of Choice .Iam using the wonderful artwork of Elias Chatzoudis.which you must obtain a license to use at
MyPspTubes


ScrapKit Movie Night by
Designs by Bittersweet
. If you wish to purchase this awesome scrapkit, you can
here



Open up a canvas size 700x700..Dont worry we will resize later..Fill in with White

Open up Curled Ribbon Frame of your choice..I used the pink one
Resize by 65%
Using your magic want click inside the frame..
Sections/Modify/Expand by 3
Give it a nice drop shadow
V~ -1
H ~ 1
Opacity ~50
Blur ~5
Color~Black


Open up Movie Night paper 9,Copy and paste it below your frame layer
Sectons/Invert/Delete
(Make sure it is under your fame layer)

At the time I went ahead and pasted the tube

Depending on your tube you may want to resize it.

Paste the tube above your frame later..Erase any of the tube that is over laping the bottom of the fame
Apply the same drop shadow as we did to the frame layer

Closing out your white background...Merge the fame/paper and tube layers visible

Unhide your white background

Open up Movie Night Doddle 6
Resize by 75%

Move this layer below your merged layers
(If you notice you will see a bit of the doodle at the bottom go ahead and erase that..You can see what Im talkign about in the preview below)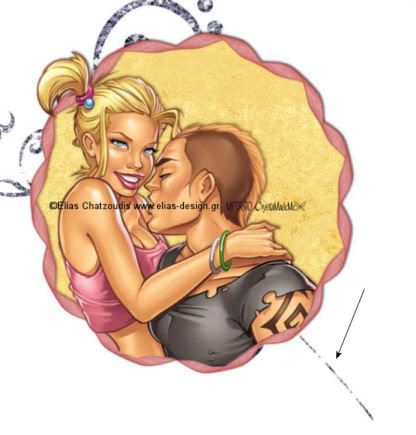 Duplicate your Doodle laye
Image/Flip/Image Mirror

You can move these around to where you like them best.
Meve the doodle layers togeathe add the same drop shadow as before

Paste the pop corn on the right se..resize by 45%
Paste the Soda cups infront of the popcorn resize 45%

Open up the movie poster of your choice..Im using Romeo and Juliet
as it is one of my favorite movies
Depending on the size you may want to resize it

Image rotate and rotate it by 45% to the right

I placed mine behind my popcorn but left out enough so you can still see it..You can place it where ever you feel looks best on your tag
at this time you can add any other elements you would like..

Now to add some of the script
I had to search the internet to find the script I wanted to use
Click on your top layer in your layer pallet and select your preset shapes icon
Using the circle draw a circle slightly larger then your fame leave that as a vector layer

Choosing a color of choice from your tube..and font of choice with these settings
text size 20
Stroke Null

Make sure under Create As..you have selected Floating
Placing your test tool on the edge of your cicle you should see a A with a Curve line under it..

Type out ..Your Scrpit..
Now it doesnt matter where it sits on your circle in your test box at the font of your test hit your spacebar untail you get your test where you want it..

Now over on your layer pallet delete the circle layer
right click on your floating selection and promote selections to layer, Select none.

Go to eye candy 4000/Gradient Glow/I used the color #f6dc87
(was the color of my paper in my fame)

Lets add your name
Font of choice
Depending on your name you can go smaller or larger..I used size 48
Stroke~1
Forground Color~#f9e6ad
Background Color~#eb8585
Add the same drop shadow as before.

Add the copyright..and lic number if using ptu art.
resize 85%
Merge All Flatten
And Save

Thank you for doing my tutorial,I Hope You Liked It.