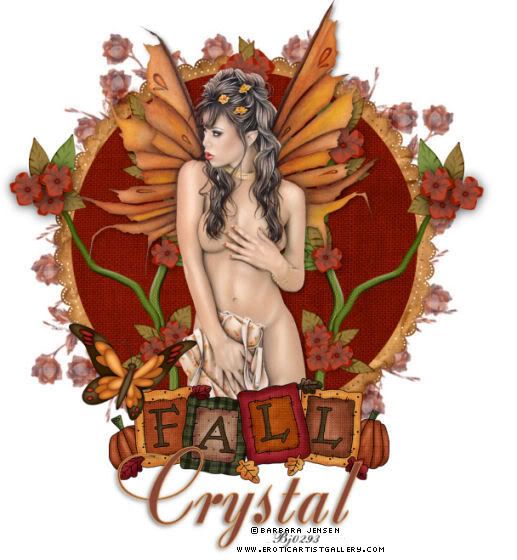 This tutorial was created on September /05/2008 by Ċrÿstàlßellĕ any resemblance to another Tag or Tutorial is purely coincidental.

This tag was created in PSP 9 and can be done in other versions

You will need:
Font of Choice:I used Zirkon
Mask:
Here

Scrap Kit of choice or a Free Download from
TantrumScraps
Scrap kit is called Happy Fall

Tube of Choice:
Iam using the wonderful artwork of Barbara Jensen.which you must obtain a license to use
Here



Ready Lets begin..

Open up canvas size 700x700 flood fill white

Choose a paper copy and paste it as a new layer
Layers/Mask/Load Mask from disk
Find your mask WSL_Mask226
make sure Invert transparency is not checked.
click ok
Over on your layer palette delete the mask layer,when it pops up click yes.merge group
Now on your mask layer we are going to resize it by 90%

Choose a frame of choice.I used Happy Fall frame 4
Copy and paste frame and resize by 70%
Click in side your frame with your magic wand
go to selections/modify/expand x3
Open up another scrap paper copy and paste it over your frame
go to selections/invert and hit delete on your keyboard
Move that layer under your frame

Copy and paste your tube as a new layer..I had to erase some of the bottom of my tube so she looks like she is sitting inside the bottom of the frame.
Add a drop shadow to your tube
2
2
50
7
color Black

Choose a Buttlefly from the scrap kit.Resize by 55% Place it where you would like.I put my butterfly at the bottom of my frame
Hide your tube layer for now..Open up Happy fall Flowers3
Resize by 80%
Duplicate and mirror
Make sure the flowers are below your tube layer
Open up HappyFall_wordart1
Resize by55%

Choose a Script font,
Forground:#d69850
Background:#884637

add a drop shadow to your name
2
-2
50
7

Add Copyright.Merge all
Resize to your liking and save.
Thank you for trying my tutorial
I hope you liked it.