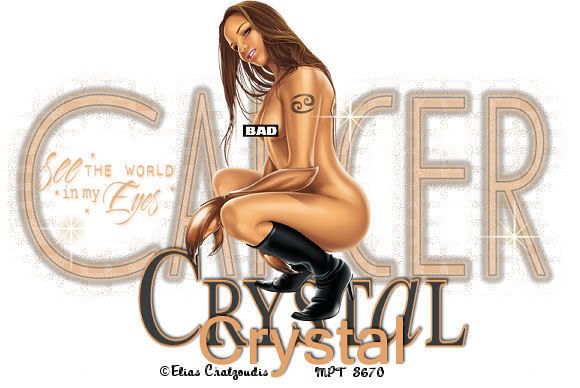 This

tutorial was created on March /05/2008 by

Ċrÿstàlßellĕ any resemblance to another Tag or Tutorial is purely coincidental.
This tag was created in PSP 9 and can be done in other versions
You will need:
2 Fonts of Choice
EyeCandy 4000 Gradient Glow
Tube of Choice .Iam using the wonderful artwork of Elias Chatzoudis.which you must obtain a license to use at
MyPspTubes
Open up a canvas size 600x800..Dont worry we will resize later..Fill in with White
Pick 2 colors from your tube
Write out what Zodiac sign you are wanting to use..I used Cancer since I was born in July.Font I used was Anisette-Thin
Streatch it so its almost as about the same size as your tube
Add a Gradient Glow with these settings
Drop the Opacity down to 50 on your font layer
Duplicate this layer,oh the original layer go to
adjust,blur,Gaussian blur 6.00
Go to Effects Texture Effect,Mosaic-Antique
Open up your tube of choice and place it where you would like it to go,
I placed mine right in the center
Choose A brush of your choice,
Place them where you would like,I placed mine around the Zodiac name,Have fun with it till you like the way it looks
Choose another font of your choice
Write out your name.Place it At the bottom of your tube,Like she is sitting on it,
or laying depending on what tube you used,
Use Same Drop Shadow as your Tube
Add the © then merge visible your layers. Resize your tag then crop and save as a jpeg.
Thank you For trying my Tutorial